"LuitBiz QMS" Quality Management Software
Every business needs to have a watertight quality process in place in order to innovate new products, get to market quickly and sustain growth. LuitBiz QMS is a quality management software that helps businesses have complete end-to-end view of their quality processes making compliance issues a thing of the past. Main features of LuitBiz QMS are:
Quality Lifecycle Management - Manufacturing or Service
Document Control
SOP & Quality Process Management
Checklists & Forms Creation & Approvals
Quality Alerts & Reports
LuitBiz QMS is completely responsive and can be accessed via any device (computer / smartphone / tablet) without downloading any mobile apps.
Here's how LuitBiz QMS helps you have complete control over your quality processes
Our easy-to-use interface helps you track your quality processes digitally
With LuitBiz QMS, you can write, modify and approve your quality documents online with electronic signature
Controlled copies of the documents can be distributed to intended users along with viewing history.
Built-in change control management ensures document versioning along with change control and document request workflows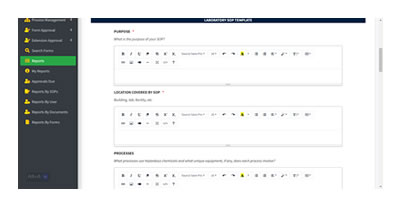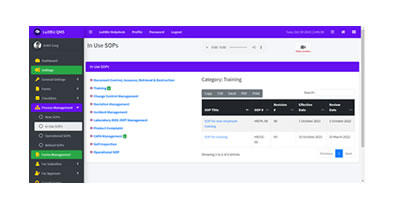 The simple interface of LuitBiz QMS allows you to track all your SOPs and their complete lifecycle easily.
The intuitive interface makes it extremely easy for anyone to use and track all your quality processes
You can view the complete information about your SOPs including their usage at your fingertips.
With LuitBiz QMS, you won't have to shift through cluttered quality management spreadsheet records anymore.
With the consolidated views of LuitBiz QMS see full histories, approvals, and status of your process forms.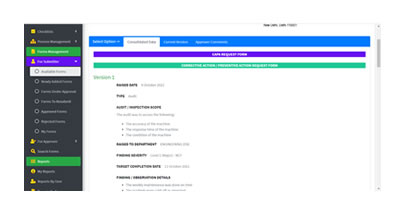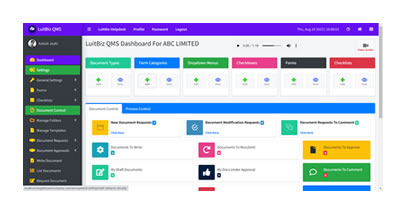 Create SOPs and the requisite series of checks and balances to minimize the risks of nonconformances and maximize organizational efficiency
This can reduce process costs by 15 percent and reduce errors by 30 percent
Achieve measurable benefits like reduced process throughput times, fewer customer complaints, and superior forecasting ability
According to ISO standards "continual improvement should be a permanent objective of the organization." With LuitBiz QMS, you can embrace the principle of improvement that can have lasting benefits to your organization that includes stronger performance, strategic leadership, and staff engagement.
Audit your SOPs regularly to ensure progress towards standards.
Every member of your organization can be trained on the use of Plan-Do-Check-Act or Deming cycles. By doing so, your organization can create a culture of constant problem solving and innovation.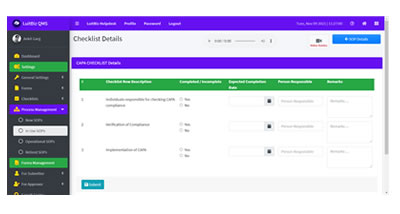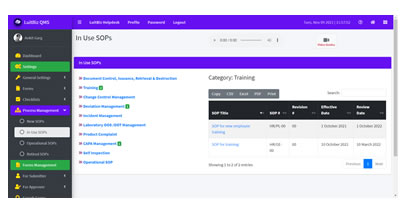 Streamline all your employee interaction processes with your organization and culture, spanning from recruitment and onboarding to environment and technology with LuitBiz QMS to drive a positive employee experience
Encourage employees to have a two way communication with your organization and provide continuous feedback as employee communication is the core of creating a quality-driven culture where people openly share information and understand the company's values.
Educate your employees on your customer and quality systems continuosly and standardize onboarding process for new hires with standard processes for training and education.
The standardized processes in LuitBiz QMS adds value and promotes flexibility when needed to achieve quality objectives or continuous improvement. This flexibility allows your organization to adopt evidence-based decision making based on real-time oversight into the quality system's data
By gaining real-time insight into SOPs related to training, document management, compliance, and CAPA you can have an objective understanding of whether a process is successful or requires correction.
Evidence-based decision making will benefit your organization by removing subjectivity from leadership with real-time use of data to facilitate continuous improvement toward strategic goals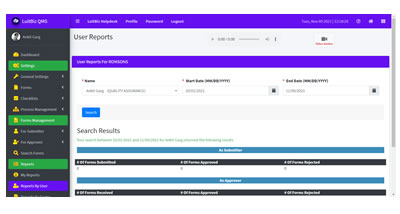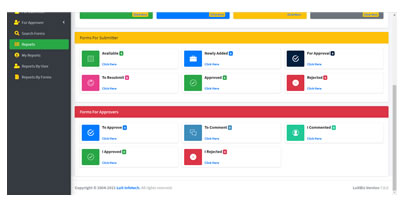 Increase efficiency and productivity with standardized quality processes and lower operational costs with LuitBiz QMS.
Prevent problems throughout the product lifecycle with tools to identify issues before they result in rework, waste, or nonconformances with LuitBiz QMS.
LuitBiz QMS will maximize internal efficiency and create a reliable baseline as your company's product approaches market approval.