LuitBiz HRM & ESS Implementation & Customer Onboarding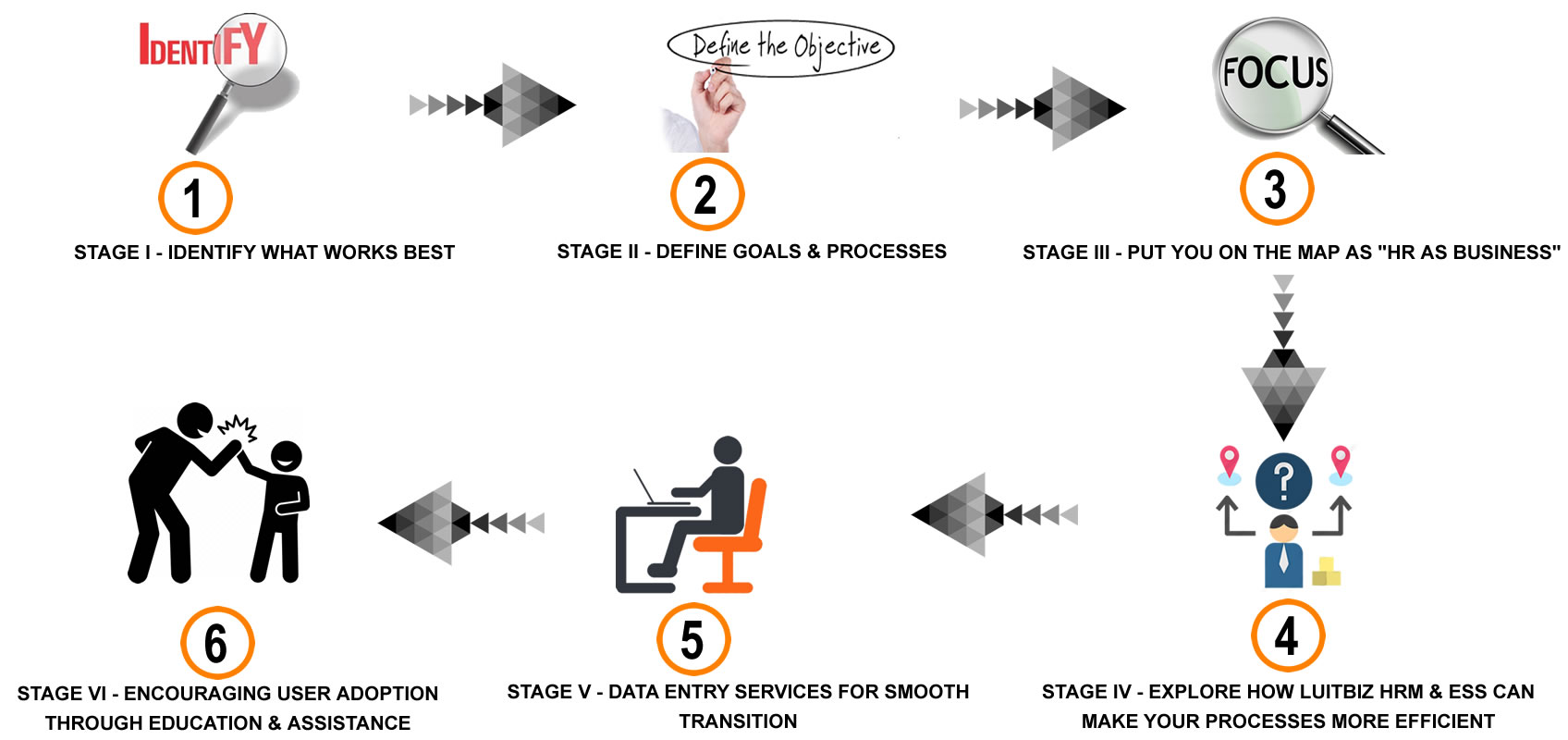 Implementing LuitBiz HRM & ESS
LuitBiz HRM & ESS implementation services fundamentally has six "stages"
At this stage, we work with you to document your processes with a focus on those processes that are core to the value you deliver to your business. LuitBiz HRM & ESS has all the processes required for the entire employee life cycle. However, your company might not require to implement all of these. So, we work with you to identify and document which modules of LuitBiz HRM & ESS will be beneficial for you and if they require any customization to meet your company's requirements.
At this stage we work with you and your team to dissect your employee processes, identifying process inefficiencies, then recommending and implementing process improvements. Based on your requirements, we select the processes whose automation could add value to your employee management. We then show you the ROI that you can obtain by automating these process improvements.Our goal at this stage is to identify how to help you save time, money, and headaches
Human resources is the division of a business that is charged with finding, screening, recruiting, and training job applicants, as well as administering employee-benefit programs. It is the most fundamental division of your business as the complete health of your business depends on the efficiency and productivity of your employees. At this stage, we help you identify bottlenecks in your employee management processes and help fix them with LuitBiz HRM & ESS
We do understand that you already have your HR places in place. But due to lack of a single application to control all processes, there might be jobs that are repeated and time spent on unnecessary menial tasks. At this stage, we help you adopt the streamlined processes of LuitBiz HRM & ESS to maximize efficiency and minimize loss of time and money.
HR Departments have a lot of data about employees and transition from another system or paper based system is a huge task. We understand this problem. At this stage we help you with our data entry services so that all your employee data can be smoothly transferred to LuitBiz HRM & ESS and the transition is very smooth. We take this tension off your shoulders.
Generally when a new software is implemented in an organization, it's quite difficult to get the employees to use it immediately. We understand this problem and we do our best to help our customers to get their employees to use the system by providing a lot of free online training and hand holding. LuitBiz is extremely easy to use and with some hand holding employees get used to using it.